I was introduced to the B.B. King Museum and Delta Interpretive Center in December 2012 when my company began providing IT services for them. We also had another customer we were working for next door to the museum and as many times as I have traveled to Indianola, I've never had the time to visit the museum.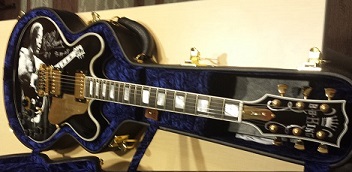 On a recent trip to work for the museum I was finally able to meet the great staff there. They even pulled out one of several of B.B.'s guitars. This one was NOT on display.
Growing up I learned about music by watching Dick Clark's American Bandstand, Soul Train with the original Don Cornelius, The Midnight Special and then finally MTV. I was listening to Rush, 38-Special, Boston, KISS, Styx, Journey, KC & the Sunshine Band, Glen Campbell, Paul Davis, just to name a few. I had always heard of B.B. King (who hadn't?) but I never considered listening to blues music. I watched B.B. King & Gladys Knight perform together on The Midnight Special in 1973 and then I saw B.B. King and Bobby Blue Bland perform on Soul Train in 1975.
Besides the museum being about the life and times of B.B. King, my desire to see it was mainly out of what I consider a duty. If someone invests their time and money in you (my company), you should likewise invest in them whenever feasible. Especially with Mississippi companies. So I invited my wife and my mother to go with me for a day trip to a very nice restaurant for lunch and then to tour the museum.

We first went to lunch at a very nice restaurant called The Crown in downtown Indianola. It was just a few short blocks away from the museum. The food was amazing and I highly recommend you go see Mrs. Evelyn. She'll treat you like royalty.
After lunch we went to the museum. When you walk through the door you are greeted by a tour guide with options to go on the tour or sit and lounge in Lucille's Gift shop.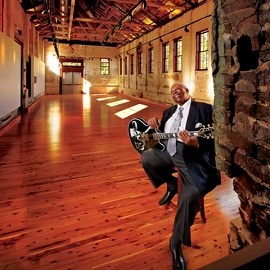 The tour begins with the guide showing you a computer monitor of the current whereabouts of Mr. King. The day of our visit he had been in New Orleans the previous day and was currently on I-20 around West Monroe, LA. Next they take you into a huge room which is actually the original cotton gin building in which B.B. got his first job. They built a beautiful building around it leaving the inside intact.
"The B.B. King Museum in King's hometown of Indianola, MS, explores King's 60-plus year career through the presentation of Mr. King's personal papers, materials, and objects from his life and work, along with cutting edge multi-media and film."
"The museum is designed so that visitors will experience chronologically the periods in B.B. King's life in the larger context of a changing world, moving through an interactive environment that is visually stimulating and full of music."

Near the end of the maze they had a very cool Guitar Studio. It is similar to playing the Guitar Hero game. Visitors can actually play instruments in an interactive environment, making their own music, recording it and hearing playback.
The place is just Incredible! It is a World Class museum! It's an amazing tribute to the King of Blue's talent and rich history. A MUST SEE!