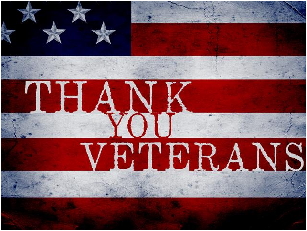 The other day someone asked me if I were going to wear my military ribbons on Veterans Day. I honestly never considered it and didn't actually think it was appropriate. So I set out to learn more about it and the options afforded me as a Veteran. Reading a few articles with so many people not understanding Veteran status made me want to ensure that I was considered a Veteran. However after reading several articles on the subject as well as the US Code, I have learned a few things.
Under Federal Law a Veteran is any person, who served honorably on active duty in the armed forces of the United States. (Discharges marked GENERAL AND UNDER HONORABLE CONDITIONS also qualify.) That pretty much sealed it for me, I am a Veteran! In regards to being considered for Veteran benefits the VA describes a Veteran in the US Code Title 38-Veterans' Benefits section 101 (2) The term ''Veteran'' means a person who served in the active military, naval, or air service, and who was discharged or released therefrom under conditions other than dishonorable.
I also found that prior to September 8, 1980, there was no minimum length of service necessary to be considered a Veteran for most VA benefits. However, for an individual who enlisted after September 8, 1980, there are now certain minimum length of service requirements. The general requirement is either 24 months of continuous active duty or the "full period" for which the service member was called or ordered to active duty.
I recently learned that on May 23, 2012 Gov. Phil Bryant signed Senate Bill 2461 authorizing a "Veteran" designation on Mississippi driver's licenses. The process involves a verification of Veteran status with the MS Veterans Affairs Board. The next step is to take your verified paperwork to the drivers license bureau and obtain your new license with the Veteran designation. Few know that a Veteran does not have an official ID indicating they are a Veteran. Our only proof is a copy of our discharge document DD-214 we received upon discharge from the armed forces.
Now that I have ensured my Veteran status, on to the question at hand. Beginning with Veterans Day 2006, the Department of Veteran Affairs (VA) encourages all military Veterans to wear their medals and decorations during Veterans Day (November 11th) and other patriotic holidays (such as Independence Day – July 4th, and Memorial Day – May 30th). According to the VA, Veterans don't need to wear their medals only if they're in a parade. "Wear them when you go play golf. Wear them when you go to the store. Let America know that you took that oath and served."
Each Military branch has their own regulations on when and how to wear them. The Army says that former members of the Army (including active duty, reserves, or Army National Guard), may wear medals on "appropriate" civilian clothing on Veteran's Day, Memorial Day, and Armed Forces Day, as well as at "formal occasions of ceremony and social functions of a military nature." "Appropriate" civilian clothes includes clothes designed for veteran and patriotic organizations, such as VFW or American Legion uniforms. The Air Force says that honorably discharged and retired Air Force members may wear full-size or miniature medals on civilian suits on appropriate occasions such as Memorial Day and Armed Forces Day.
The Navy regulation authorizes the wear of miniature medals and Miniature Breast Insignia on civilian evening dress (white tie) or civilian dinner dress (black tie) in the same manner as for dinner dress jackets. The Marines say that decorations, medals, appropriate ribbon bars, or lapel buttons may be worn on civilian clothes at the individual's discretion. Individuals should ensure that the occasion and the manner of wearing will not reflect discredit on the award. The Coast Guard allows the wear of miniature medals with civilian evening dress (white tie). You should wear them in the same manner as prescribed for Formal Dress uniform, and with civilian dinner dress (black tie) in the same manner as prescribed for Dinner Dress uniforms.
After reading all this I feel that simply wearing my ribbons on everyday clothing would be considered inappropriate and maybe even disrespectful. So I will work on Veterans Day with the hope that all military personnel in harms way be safe and secure. It is because of our Active Military and Veterans that every American has the opportunity to pursue the American Dream. And it is because of them that we are still the most exceptional nation on earth! God Bless our Armed Forces, Veterans, and God Bless America!